Fruity Grilled Cheese Sandwich
PaulaG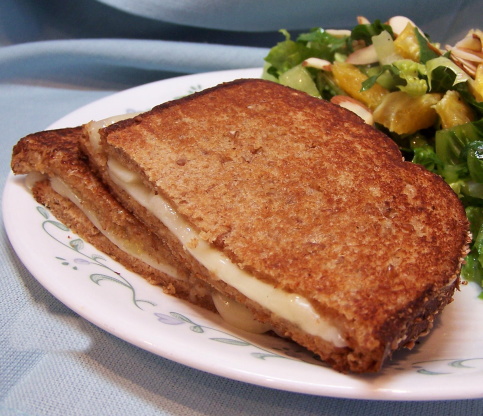 Fiddling around in the kitchen, I was looking for a protein rich snack prior to working out. This sandwich was the result and seemed worth posting. If you think it sounds strange consider the delicious and popular appetizer of baked brie in puff pastry and dried fruit. This is a deconstructed and reconstructed version for one. My version used reduced fat ingredients, but you can use the full fat versions if you like.

This is an excellent sandwich! The BF doesn't even like anything apricot, and he thought it was delicious too. I made it with Smucker's apricot spread and brick cheese. Puts a whole new spin on plain old grilled cheese, especially for the summertime! Next time I may try muenster cheese with raspberry preserves and cheddar with strawberry spread, though it'll be hard to venture away from this combo. Maybe monterey jack with blackberry...
2

slices reduced-calorie whole wheat bread
1 1⁄2 ounces part-skim mozzarella cheese, thinly sliced (another mild flavored semi-soft cheese such as provolone would also work)

1

tablespoon apricot fruit spread or 1 tablespoon apricot preserves
butter-flavored cooking spray or 1 teaspoon butter
Spread apricot spread on top of one slice of bread, top with cheese and the second slice of bread.
Apply light coat of cooking spray to the exterior of bread slices.
Place on indoor grill or panini press for 2-3 minutes until bread is crispy and cheese is melted. Serve.