2Bleu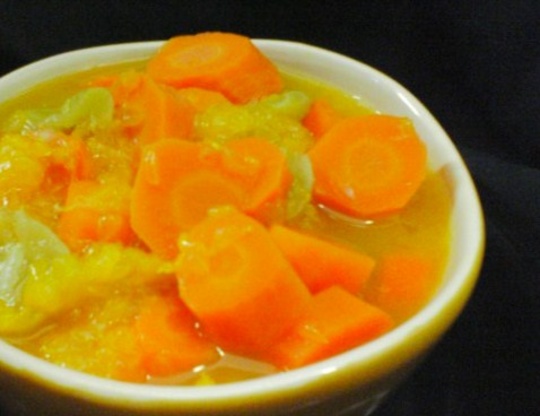 Here is a recipe from the 1999 cookbook, Recipes to Remember from Hammond (PA) PTA, & another way to bring to life a carrot side dish!

Definitely a five-star recipe. A tasty combination of oranges and grapes with a tangy twist with the curry. Served with breaded pork chops and oven fried potatoes. These carrots would go well with a chicken dish too. Love fruit and meats together. I had mandarin oranges that needed to be used up, according to my pantry inventory, and this recipe worked out perfectly.
Rinse the oranges in water.
Pour orange juice into a medium large sauce pan, & turn heat on to medium.
Add carrots & curry powder, stirring well.
Cover & cook about 10 minutes or until carrots are tender & liquid is absorbed.
Add grapes, oranges & lemon juice, mixing well.
Cover & heat throughout. Serve hot.