WiGal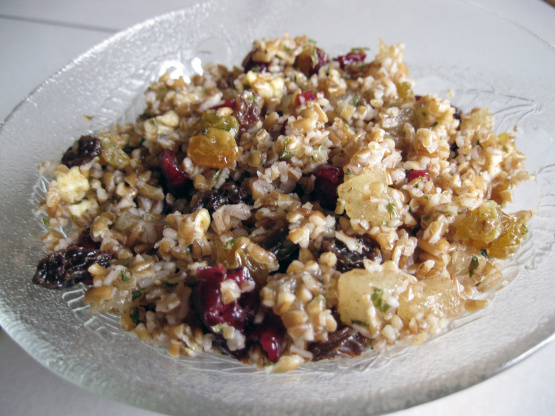 A great accompaniment to any moroccan meat recipe. Good hot or cold so can be transported too!

Top Review by WiGal
Delicious healthy salad, love the use of cinnamon and cumin -perfect! I had a dried mix of raisins, cherries, pineapple, and sultanas so used that so it is extremely easy plus fast to assemble. Plan on taking this camping with us. Did not put in the CURLY parsley I had--- as I have learned that it is too bitter for us so I used dried parsley and dried cilantro. Thank you English_Rose for sharing. Made for the Unrulies Under the Influence during my tour of NA*ME ZWT6.
Place bulgur wheat in a container, and cover with boiling water to a level of 1/2in above the bulgur wheat.
Cover the container and leave for 8 minutes.
Stir through all of the remaining ingredients and season to taste.
Serve hot or cold.