Fruity Angel Food Cake Trifle
CoffeeB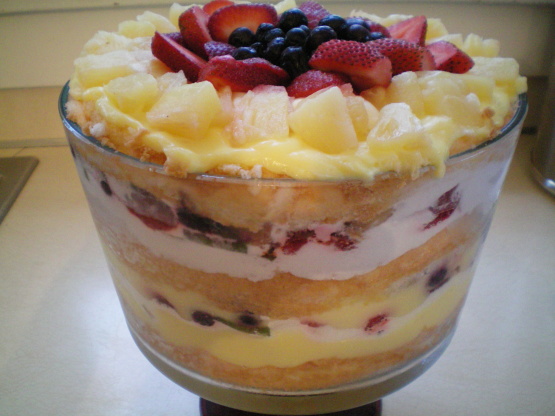 From Quick Cooking 2003 Measure the trifle bowl to the cake and if the diameter of the cake is larger than the bowl, trim it to fit or you can cut the cake into cubes. Very pretty presentation. Allow 3 hours to chill before serving.
In a mixing bowl, beat milk and pudding mix on low speed for 2 minutes; set aside.
Split cake horizontally into thirds.
Place one layer in a 5 quart trifle or serving bowl that is 9 inches in diameter (see note in heading about measuring).
Top with a third of the pudding, third of the whipped topping and a third of the fruit.
Repeat layers two times.
Cover and chill for at least 3 hours before serving.