Fruits of the Forest Berry Pie
Prep 15 mins
Cook 55 mins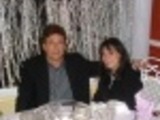 I love summer fruits, and I love pies. The problem is always choosing which kind to make. This recipe marries strawberries, blueberries, raspberries and blackberries for a winning combination. It is equally great served warm out of the oven with a scoop of vanilla ice cream, or icy cold out of the refrigerator. And, best of all, it is simple to make.
Directions
Preheat oven to 375 degrees.
Ease bottom crust in 9-inch pie pan.
In a large mixing bowl, combine the sugar, flour, and cinnamon. Stir in berries and lemon juice. Gently toss berries until coated. Transfer berry mixture to the pastry-lined pie plate.
Trim bottom pastry to edge of pie plate. Place top frust on filling and fold edge under bottom pastry. Flute edge as desired. Prick with fork for steam vents.
Bake for 50-55 minutes, or until top is golden filling is bubbling. Cool on wire rack.
Most Helpful
Even though I have frozen berries on hand much of the time (for smoothies, mostly), I very much appreciated being able to use fresh fruit for this pie, & the flavor of the combo of berries was beyond excellent! Just the right amount of sweet & tart, we thought, so we'll be keeping this recipe around! Thanks so much for sharing it! [Made & reviewed in Newest Zaar recipe tag]
My bf and I both enjoy the fruits that are in this pie and my bf loves pie more than cake, so I thought this would be great to make. It was definitely easy. I had to use frozen fruit for the fresh, however, and I had planned to take this for dessert to bf's parents' house, and since his stepfather is diabetic I replaced the regular sugar with Splenda. I followed everything else as directed. Unfortunately neither bf nor I liked this pie at all. It was too tart and just didn't turn out well, though it smelled great while baking. Because of the frozen fruit and the use of Splenda, I'm not going to use stars for this recipe. However for my first pie this was very simple and easy to make. I ended up getting sick and was unable to bring the pie to bf's parents' place. Made for Please Review My Recipe tag game. Thanks for sharing, Jackie. :) I'm sorry this didn't work out for us.