Pamela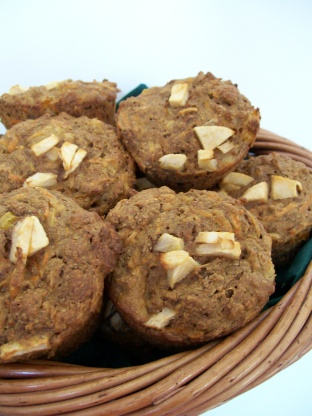 These muffins are a nice twist from plain bran muffins. Since they are garnished with either chopped apple or white chocolate chips they are quite visually pleasing. These muffins are not as sweet as some, which makes the bits of fruit stand out. Enjoy these muffins as is or with a little peanut butter, honey or jam. ------ Recipe created by me for RSC #9!

Top Review by sprue
these were good, fluffy and not very sweet! i subbed some wheat germ for some of the flour and used walnuts instead of apples. the apricots were delicious and the muffins had a nice brany feel to them. i also used lemon rind instead of orange and added some vanilla. thanks for a a fun recipe to try.
Chop up apricots. Place in about 2/3 cup boiled water and let sit for about 20 minutes till plump and softened; drain all water out and set plumped apricots aside.
In a large bowl, combine milk, lemon juice, egg, and orange rind.
In a medium bowl combine flour, All-Bran cereal, brown sugar, baking soda, baking powder and cinnamon.
Add flour mixture to the wet ingredients and stir until almost mixed; fold in grated carrots, chopped apple and apricots just till mixed.
Spray muffin tin with cooking spray; fill muffin tins until almost full and sprinkle chopped apples or white chocolate chips on top of each muffin.
Bake at 375°F for 15 to 20 minutes or until toothpick inserted into the centre of the muffin comes out clean; let stand in pan for a couple of minutes before cooling muffins on a wire rack.