2Bleu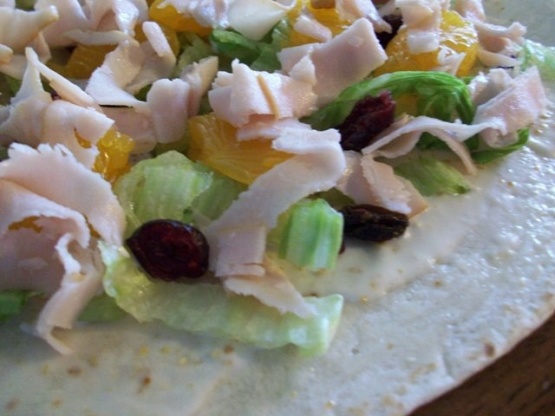 From Healthy Cooking (A Taste of Home Magazine) Aug/Sept. 2008. Originally submitted by Lisa Renshaw of Kansas City, Missouri. From magazine - "You just know this colorful wrap is going to be great and so good for you! It's packed with lean protein, fruit and veggies and wrapped in whole grain goodness!"

Made just half a recipe (2 of us here) but followed the ingredients even though I'm not a big fan of curry! Must say that in combination with the other ingredients & flavors, it was very, very good & we thoroughly enjoyed these tasty wraps! Yet another recipe I'm keeping on hand for future use! Thanks for sharing it! [Made & reviewed in 1-2-3 Hits recipe tag]
Combine the mayonnaise, orange peel, orange juice, and curry powder. Spread over tortillas. Top with cabbage, onion, oranges, cranberries, and turkey. Roll up!