Ambervim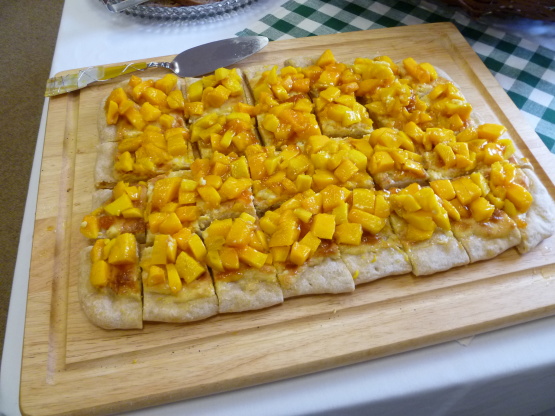 I know I got this recipe from either Gourmet or Bon Appetit maybe 15-20 years or so ago. It has become a summer fixture in my home. Always impressive and delicious. The fruit in the ingredients list is what the recipe listed, but I have happily subbed all kinds of fresh (and tinned) fruit over the years.
For crust: Sprinkle yeast and pinch of sugar into milk in small bowl; stir to dissolve.
Let stand until foamy and proofed, about 10 minutes.
Butter large bowl.
Combine 2 ½ cups flour, ¼ cup sugar and salt in another large bowl.
Make well in center.
Add yeast mixture, butter and eggs to well and blend until smooth.
Gradually draw flour from inner edge of well into center until all flour is incorporated.
Turn out onto work surface, which you have floured with some of the remaining ½ cup flour.
Knead in whatever flour is left, then continue kneading until dough is smooth and elastic, about 10 minutes.
Add dough to prepared bowl, turning to coat surface of dough with butter.
Let rise in warm, draft-free area until doubled in volume, about 1 ¾ hours.
Butter a 16 inch pizza pan.
Punch dough down.
Roll out to circle ¼ to 1/8 inch thick.
Fit into pan, pressing onto sides.
Let dough rise in warm area until puffy, about 20 minutes.
Position rack in lower third of oven and preheat to 350F.
For topping: Beat cheese, ½ cup sugar, yolks, flour, sour cream, peel, vanilla, salt and spices until smooth.
Spoon into unbaked shell, spreading evenly.
Sprinkle with 2 tblsps of sugar.
Bake until crust is browned and filling is set, about 35 minutes.
Cool completely in pan.
Decorate with fruit.
Use your imagination to make an attractive pattern of contrasting colours.
Brush generously with melted jam (you may not need whole amount – not to worry, jam will rethicken as it cools and is great on buttered toast!).
Serve within 5 hours.