Karabea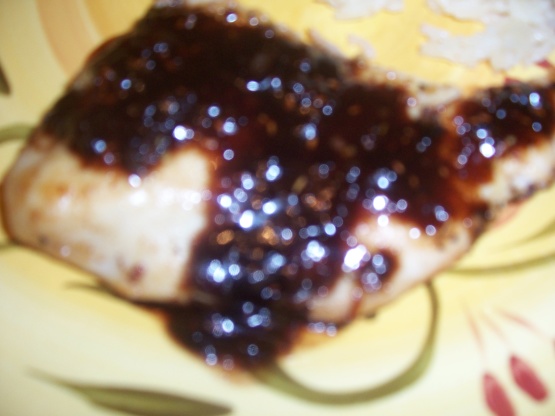 I got this from my mother; this is from a yellowed, crumbling magazine insert, so who knows where it came from, or how old it is! (Could go back to the late 1960s.)

This was delicious and it seemed like such a fancy dish! I used regular raspberry preserves because that is what I had no hand, but next time I would definitely use seedless. I also used yellow onion instead of red onion. I served this with white rice and broccoli. Thank you for posting, I will make this again!
Spray a nonstick skillet with cooking spray and heat over medium-high heat. Add onion and saute for 5 minutes. Sprinkle onion with thyme and 1/4 teaspoons salt.
Add chicken to pan; saute 6 minutes on each side, or until done. Remove chicken from pan and keep warm.
Reduce heat to medium. Add 1/4 teaspoons salt, preserves, vinegar, and pepper to pan, stirring constantly until preserves melt. Spoon sauce over chicken and serve immediately.