Fruit With Lime and Chiles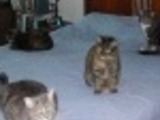 Submitted for Zaar World Tour 2005. Fruiterias, Mexican fruit stands, serve fruit spiked with chile powder, lime and salt to enhance the flavors. Adding additional sugar or sugar substitute is up to you, according to taste or to how ripe the fruit is. Any fruit would work well in this, but I've mentioned the ones listed in the recipe. From a special issue of Saveur, The Best of Tex-Mex. I have not tried this yet.
Directions
Divide fruit between 2 cups or bowls, squeeze juice from lime over fruit and sprinkle with salt and chile powder to taste and toss lightly.
Reviews
Most Helpful
Really lovely. Cut up all the fruit at home and took along to a beach picnic (in cooler) and dressed there as I was afraid the salt would make the fruit too watery by the time we got round to eating it. The lime and chili is a great foil to the sweet fruit.

This reminds me of home (California) we use to buy skewers of fruit with chili powder on them! I used papaya, mango and pineapple. Perfect flavors! Thank you!

Seeing this recipe reminded me of lazy afternoons strolling downtown in Merida. We would often buy skewers of mango, papaya and pineapple chunks with lime and chili. I made this as a brunch fruit salad including cantaloupe, honeydew, watermelon, pineapple, strawberries and kiwi. The berries and kiwi did not go as well with this treatment bu the firmer fruits were wonderful. Thanks Kumquat.