Aimchick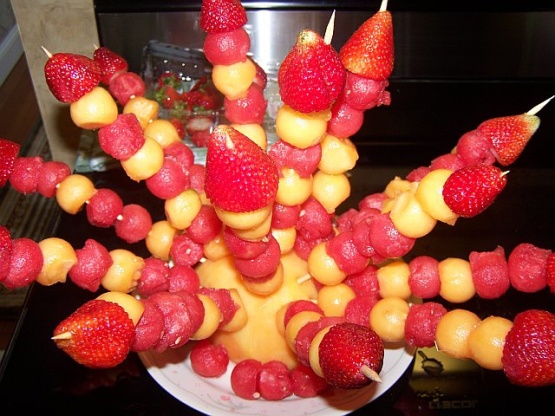 I got this idea from a cooking show and made it for a 10 year old birthday party. The kids LOVED it and I even had to cut up the base of it so they could eat that too!

have not tried this but...what's not to love??? cantaloupes? yum! watermelon? yum! strawberries? double yum!!! all in a lovely presentation....kudos aimchick!
Cut both cantaloupes in half and remove the seed.
Take one cantaloupe half and place flat side down on a cutting board and remove skin with a sharp knife. This will become the base.
Using a melon baller or mini ice cream scoop, make melon balls out of the watermelon and remaining 3 cantaloupe halves.
Cut stems from tops of strawberries.
Leaving 2 inches at the bottom, skewer 6 or 7 melon balls on each with alternating colors.
Cap the end of each skewer with a strawberry.
Stick the skewer into the peeled cantaloupe base.
Repeat until fruit is gone.