Fruit Stuffed French Toast
PaulaG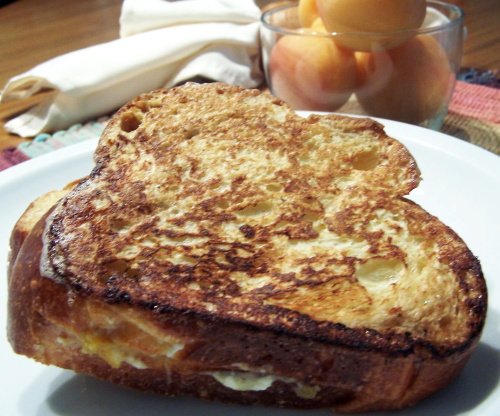 This delicious, easy to make recipe is an adaptation to an original recipe found in "MOOSEWOOD RESTAURANT COOKS AT HOME" I bake it off to crisp up the outside and heat up the filling. BE CAREFUL NOT TO OVERBAKE!
Top Review by PaulaG
This is very good. I do like the method of putting it into the oven for a few minutes. That makes a world of difference. I used cream cheese mixed with apricot fruit spred and topped it off with warmed maple syrup. The recipe says it feeds 2 but DH and I will happily be having leftovers.
Pre-heat oven to 350 degrees F.
Cut a pocket in each slice of bread by using a serrated knife to cut to about a half inch of the sides& bottom of each slice.
Mix together the fruit spread& cheese& fill pockets with a tbsp of the fruit/cheese mixture each.
Mix the eggs, milk, vanilla, cinnamon& nutmeg together in a bowl or baking pan large enough to hold all the slices in a single layer.
Soak the slices on one side for a few minutes, repeat once with the other side.
Heat a large fry pan on med/low heat and add 1 tsp each of the butter& oil.
Cook the bread two at a time for approx. 5-7 minutes; turn the slices a number of times until both sides are evenly browned.
Place on baking sheet in oven for 2-3 minutes to finish. DON'T OVERBAKE!
Meanwhile, repeat steps 5, 6 & 7 with the remaining slices.
Serve warm& top with pure maple syrup. These are also delicious plain.