Fruit Salad With Easy Crème Fraiche
mk10pl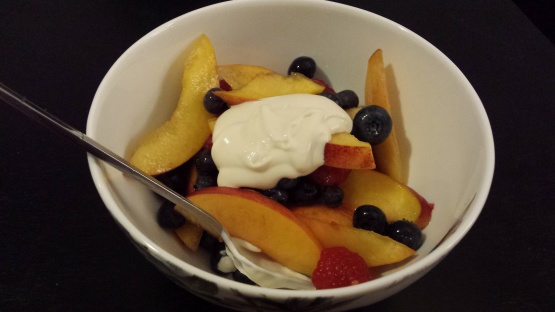 This is a super easy and delicious fruit salad recipe I found in one of the Ontario Farm Fresh recipe booklets. I usually make it without the nectarines and apricots, because I find it difficult to find them in my local grocery store. The Crème Fraiche might not be for everyone, I like it and my boyfriend didn't
In small saucepan, combine water, sugar, cinnamon, ginger and rosemary. Bring to boil, stirring occasionally. Reduce heat and simmer uncovered for 3 minutes. Strain syrup into a bowl, discarding cinnamon, ginger and rosemary. Stir in vanilla, let cool.
In medium bowl, stir together sour cream, brown sugar and salt; stir in whipping cream.
In serving bowl, gently combine together cooled syrup, blueberries, raspberries, peaches, nectarines and apricots. Serve topped with dollop of crème fraiche.