Fruit Salad With Citrus-Mint Dressing
Um Safia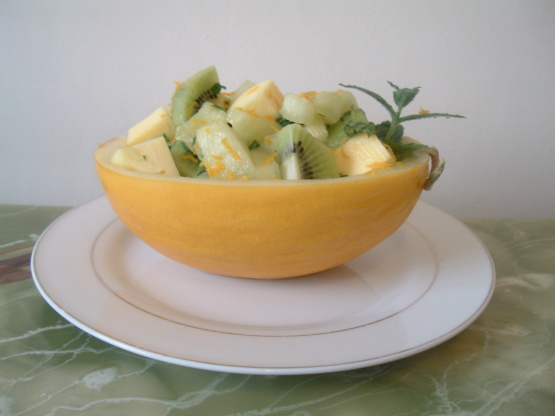 this was a refreshing twist on fruit salad. i used strawberries, cantaloupe, and kiwi (and i kept the sugar in).
6

kiwi fruits, peeled and cut into 8 wedges

2

cups cubed honeydews (1 1/2-inch)

2

cups cubed cantaloupe (1 1/2-inch)

1

medium papaya, peeled and cut into 1-inch chunks

1

tablespoon sugar
1 1⁄2 tablespoons mint
1⁄2 teaspoon finely grated orange rind

2

tablespoons fresh orange juice

1

teaspoon fresh lime juice
Combine kiwifruit, honeydew, cantaloupe, and papaya in a medium bowl.
Place sugar and remaining ingredients in a mini chopper food processor; pulse until mint is finely chopped.
Pour sugar mixture over fruit, and stir gently to coat.