Fruit Salad in a Cantaloupe Basket
KateL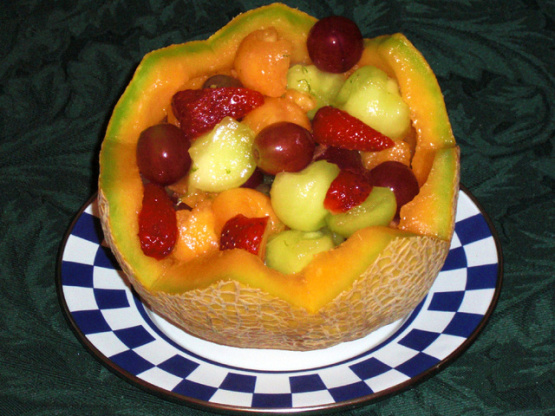 Fresh fruit served in a cantaloupe bowl makes a refreshing dessert for a casual dinner or barbeque.

Top Review by KateL
Simply wonderful. I used Grand Marnier, so my "dressing" was oh-so-mellow. I would have added some whole strawberries to garnish, but the red grapes also added quite a bit of red accent, so extra strawberries were unnecessary. I vote for the orange-flavored liqueur! Thanks for posting this recipe, Dreamer! Made for 1-2-3 Hit Wonders Tag.
Using a non-toxic marker, draw a zigzag pattern on the cantaloupe.
Cut deeply into the melon along the pattern.
Separate the halves and seed.
Use a melon baller to scoop the flesh from the cantaloupe and honeydew into balls.
Set aside.
In a large glass or ceramic bowl, combine the sugar, lime juice, orange liqueur and lime peel.
Stir well until sugar is dissolved.
Add the melon balls, berries and grapes.
Toss gently to combine.
Cover the bowl with plastic wrap and refrigerate for at least 1 hour to blend flavours, stirring a couple of times.
Spoon the fruit mixture into the hollowed out melon halves or into serving bowls.
Serve immediately.