Fruit Salad - Ambrosia Style
DeniseBC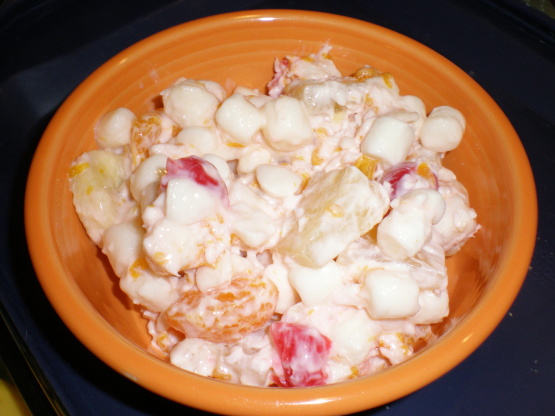 My Mother made this salad for every Thanksgiving and Christmas Dinners. I remember looking forward to this the most, as a kid, as I loved the marshmallows and the fruit. My Mom made a big bowl of this and added shredded coconut to half of it and left the other without for those of us non-coconut lovers. This is so quick and easy yet so tasty and refreshing, especially with a big heavy holiday meal. I also found out that this is a common Hawaiian Luau side dish. Time does not include chilling time.
My mom added chopped walnuts.. Awesome addition.. Enjoy..
Drain all cans of fruit.
In a large bowl add drained fruit, marshmallows, sour cream and coconut if using. Mix well to combine.
Refrigerate for at least 6 hours, overnight if possible. This allows the juices to blend with the marshmallows and sour cream.
One hour before serving, slice bananas and add to rest of the fruit, stir to combine.
If it seems to dry add a little more sour cream.
Enjoy!