dojemi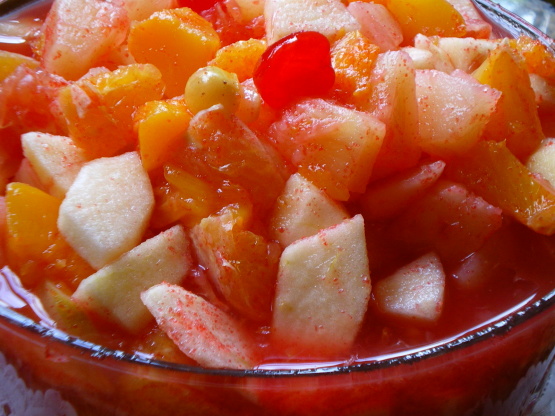 This is a recipe (if you can call it that) that I concocted. The Jello gives it just enough sweetness and a nice red color. I use canned fruit because I always have it on hand, but (of course) you can always use all fresh fruit. Use your imagination and add (or delete) any fruit. The strawberries and bananas tend to soften if left in the mixture to long. Best to add them just before serving. During the summer months I always have some in my frig.

This was wonderful. Everyone loved this. I will be making this again Thanks!
Drain all canned fruit (save juices- add some to recipe if needed, or desired) Mix all fruit together.
Sprinkle with Jello (enough to sweeten- not entire package).
Peel and slice bananas, oranges and kiwi into bite-size pieces.
Slice strawberries.
Remove grapes from vine.
Add oranges, kiwi and grapes to Jello mixture.
Strawberries and bananas should be added last as they tend to soften.