Yia Yia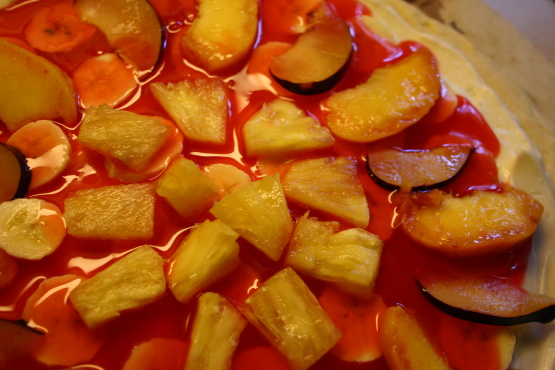 One of the ladies in the office brought this to work so I had to find a recipe that was similar. This did the trick for me. Absolutely wonderful. From Junior League Centennial Cookbook. Prep time is estimated. Feel free to use any fruit combination you like.

Perfect and easy! I made 2 one w/ store bought Pillsbury cookie dough and one w/ this homemade crust for a birthday at my husbands work. Both were devoured! I do NOT put the glaze on either of them, it doesn't need it! The Pillsbury refrigerated cookie dough was much sweeter maybe greasier too? The homemade dough was a little easier to push into a giant circle and puffed up higher and was flakier. both were wonderful I might consider adding a tiny bit more sugar to the homemade since that was the only thing some might like more about Pillsbury. We omitted the bananas I love them but a lot of people don't and then I don't have to worry about their looks. We use fresh: strawberries, blueberries and kiwi those 3 are a must, I also added canned mandarin oranges because they are awesome. Those 4 fruits are all you need, all bright colors and they look and taste awesome! Thanks for a homemade crust I will use again much cheaper than buying store bought cookie dough! ps I think the title of this recipe should mention homemade cookie dough crust since they others have you buy cookie dough. I think more would quickly pick this recipe, that is what I was searching for.
Preheat oven to 350 degrees.
Cream together butter and sugar.
Add egg, vanilla and milk.
Beat until well blended.
Combine flour and baking powder.
Add dry ingredients to better mixture and blend well.
Spread out into a 14 inch pizza pan and bake for 8 to 10 minutes.
Combine the glaze ingredients with 1 cup of water in a saucepan.
Boil until thickened then refrigerate until cool.
Whip together the confectioners' sugar and cream cheese to form the cream layer.
Spread over the baked crust.
Place sliced bananas on top of the cream layer. Cover completely with the cooled glaze to prevent the banas from turning brown.
Add the remaining fruit evenly over the glaze and enjoy.