Fruit, Nut, and Chicken Salad With Curried Mayo Dressing
Rita1652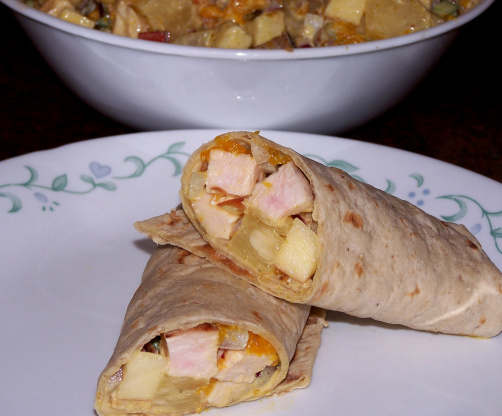 A cool, light, summer meal perfect for those days when its too hot to cook. But since the ingredients are available year round you can enjoy it anytime. It goes together fast but tastes like you slaved over it. ;) Creamy, zesty, and pretty on the plate. "Cooking" time is chilling time.

Great Fruity Crunchy and Fresh! I used 2 cups of grilled chicken, 1 large apple, dark raisins, 1 celery stalk adding the rest of the ingredients and placed into a wrap. This can easily serve 10 makes a lot. especially if you serve it over a bed of greens. I kept the chicken and apple chunks close in size of the pineapple but would have been better if all three were cut down to 1/2 that size. I went for the tablespoon of curry love love the sweetness it brings to chicken salads.
Whisk together the dressing ingredients.
Mix chicken, apples, pineapple chunks, raisins, pecans, celery, and onions with enough dressing to make it moist but not soggy.
Chill for at least half an hour to develop the best flavor.
Can be served on a bed of mixed greens or used as a filling for sandwiches or wraps.
Note – Curry powders vary wildly in both heat and flavor from brand to brand. Start with less and taste before adding more unless you are very fond of curry and sure that you'll enjoy it hot.