Fruit Loop Rice Krispies Treats
CoffeeB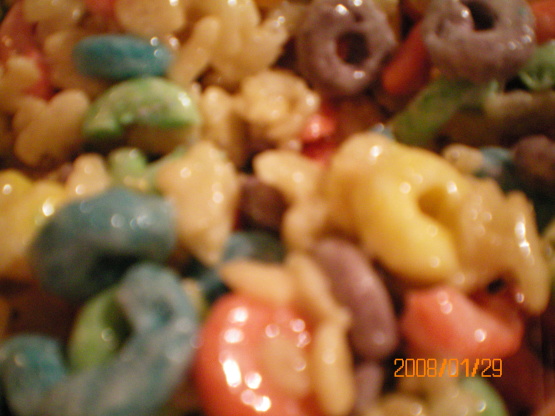 So simple, I almost hate to post the recipe, but I'll forget about it if I don't. The kids went nuts for these glorified Rice Krispies Treats. Fruit Loops give some color and just enough sweetness. Would be great for a bake sale.

This were so darn yummy! We all love regular Krispie Treats and never felt the need to change them, but thought the Fruit Loops sounded irresistable. They provide an extra sweetness and crunch and we all loved them more than regular Krispie recipe. I did halve the recipe, just because my daughter and I got into the marshmallows! Roxygirl
8

tablespoons butter (1 stick)

16

ounces marshmallows (8 1/2 to 9 cups)
5 1⁄2 cups Rice Krispies
5 1⁄2 cups Fruit Loops cereal

1

teaspoon vanilla (optional)
Melt the butter and marshmallows together in a large pot, stirring until smooth. Add vanilla if desired.
In a large bowl, combine cereals. Pour marshmallow mixture over and stir until uniformly mixed.
Press mixture into a sheet pan or 15x10 jelly roll pan. A spatula coated with cooking spray works well. Let cool until set, then cut into squares with a sharp knife.