Bondnz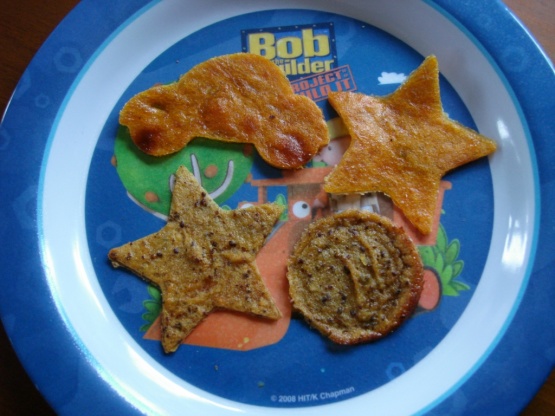 I have yet to try this, but I loved fruit leather when I was little! At lunch, I had a friend who always had cold lunch and she would give me hers (because she didn't like the stuff). This looks good, and it must be because it is from my favorite cookbook- The Roosevelt Raccoons "All of Our Favorites" cookbook. The cookbook contains recipes from active parents and teachers of Roosevelt Elementary School, Mankato, MN. It is where I went to school, and my family submitted all of our family favorites for it. So, we probably have 10 copies of the book in our house!

So many possibilities and variants for this recipe! For the first batch I used plain applesauce but cut up some dried pears instead of apricots. Next time, I plan on using the apricots-- but with strawberry-flavored applesauce! Maybe even do a wild boquet of strawberry, peach, blueberry, etc. flavored applesauces...thanks for posting this, SO never buying Fruit Roll Ups ever again!
Combine ingredients in a blender until pureed.
Oil a 9x13 inch cake pan with nonstick cooking spray.
Pour puree onto pan.
Shake pan gently from side to side until evenly distributed.
Bake in preheated 150 degree oven for 5 to 7 hours.
Leather is done when bendable and no longer sticky to touch.
Once cooled, cut into strips while still in pan.
Lay each piece on plastic wrap and roll up.
Store in a covered container.