Fruit Kabobs with Margarita Dip
From House & Home
Make and share this Fruit Kabobs with Margarita Dip recipe from Food.com.
1⁄2 cup whipping cream
3 cups angel food cake or 3 cups poundcake, cubes
3 cups fresh fruit (strawberries,cubed melon,and/or seedless red or green grapes)
1⁄2 cup sour cream
1 (3 ounce) package cream cheese, cut up and softened
1⁄4 cup sifted powdered sugar
1 tablespoon tequila
1 tablespoon orange juice concentrate
1 tablespoon lime juice
Directions
For the margarita dip: Place sour cream,cream cheese,powdered sugar,tequila,orange juice,and lime juice in a blender or food processor cover blend until combined.
Add whipping cream cover and blend until fluffy and mixture mounds.
Serve immediately or cover and chill up to 24 hours.
For Kabobs: Arrange small skewers of cake and fruit on serving platter Serve with dip.
Reviews
Most Helpful
Easy & delicious. The hardest part was putting the fruit on the skewers! I made this for a bridal shower & they were a big hit! I think I'll make it again with out the tequila for a kiddie 4th of July party. I am not usually a fan of whipped topping but this was tangy, tart and not overly sweet. Nice & refreshing for summer! Thanks for sharing!
Such a fun recipe! I served these wonderful little kabobs at a bridal shower brunch. I am so glad I made a triple batch! Although, it didn't really matter because this dish was still the first thing gone! The presentation is just amazing and the margarita dip is to die for! (I've made the dip several times on it's own to eat with my fruit during the week!) Thanks for a great recipe!

These were a big hit! I brought them to an afternoon reception (after a funeral) where there were only desserts. My platter was empty very early on. I couldn't find strawberries as there were unavailable to buy so I went with cantalope, pineapple, green grapes Marg@caymen's recipe for Five Flavor Pound Cake. The Maragrita dip is delicious! I left out the tequila as there were kids and such there. I did add a few drops of green food coloring from those new McCormick Neon colors. It's a soft green that doesn't show up in the photo too well, but a nice shade Thanks for the great recipe NovaLee! Pam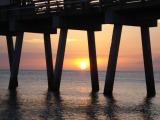 Summer Central