Pam-I-Am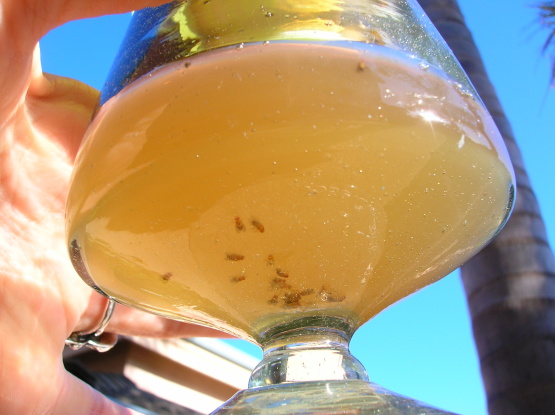 This will help take care of those fruit flies that gather around the stuff you have to take out to the compost pile or those bananas you haven't gotten around to baking with yet. The photo I posted (the one with the cherry & grape tomatoes) shows several fruit flies on the paper already (and a couple are in the vinegar, though you can't see them)--not even three minutes after making the trap! Some kinds of cider vinegar work better than others--typically, I find the darker the vinegar, the better it works. I know some people have said they prefer to use plastic wrap over the top, but I find that the paper cone (though it takes some fiddling to get it to fit just right) works best.

Folks, I purchased some fresh fruit the other day. About two days later, I started seeing gnat looking things all over the place. Mostly near the fruit, kitchen sink, and pantry trash container which are all within a 6' radius. I read this "Fruit Fly / Gnat Trap post, went to the store and purchase the Apple cider vinegar, came home, built the trap and within 10 minutes, these gnat things were dying to get in and dying once inside. It's been about 1.5 hours since placing the trap and I'm guessing there are 50 dead gnats in the mixture and many more hanging out on the paper funnel. Works Perfectly!!!
Pour apple cider vinegar and drop of dish soap into glass or jar.
With the paper, make a cone with a 3/4-1" hole on the bottom. The cone should sit on the glass rim without the tip touching the vinegar. You may have to squeeze-shape the cone a bit to prevent gaps between the paper and rim.
Every day or two, switch out the vinegar. (You'll see when it stops being as potent. The flies/gnats will stop going in.).