Fruit-Filled Muffins (Light)
Annacia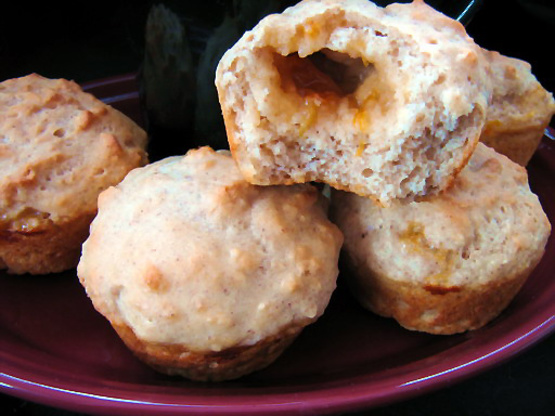 From BHG's New Dieter's Cookbook. If you don't have buttermilk, you can replace by sour milk (2 teaspoons lemon juice or vinegar in 2/3 cup milk - mix and let stand 5 minutes before using).

These are a nice little muffin w/relatively little work in putting together. I chose to use 3/4 cup whole wheat flour and 3/4 cup all-purpose. Also, used Splenda sugar in place of regular. I used Smucker's Low-Sugar Apricot Preserves for my jam of choice using 1 heaping teaspoon in each. A virtually guilt-free muffin:-) Made for 123Hits~
Coat twelve muffin cups with nonstick cooking spray or line with paper bake cups; set aside.
In a medium bowl, stir together flour, sugar, baking powder, cinnamon, baking soda and salt. Make a well in the center of the flour mixture; set aside.
In a small bowl, stir together buttermilk, egg and oil. Add buttermilk mixture all at once to flour mixture. Stir just until moistened (batter should be lumpy).
Spoon batter into prepared muffin cups, filling each about one-fourth full. Place 1 teaspoon of the spreadable fruit in center of each. Add remaining batter.
Bake in 400F oven for 18 to 20 minutes or until golden. Cool in muffin cups on a wire rack for 5 minutes. Remove from muffin cups. Serve warm.