Fruit Filled Cream Cheese Coffee Cake
Pam-I-Am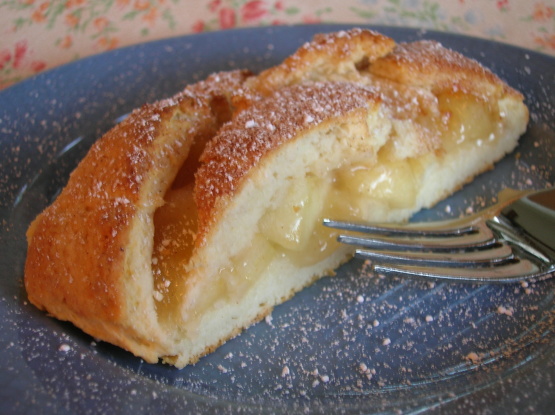 I found this recipe in a church cookbook and made a couple of changes to it. It uses bisquick baking mix and other ingredients that I always have on hand. You can choose any pie filling you want. The dough can be tricky to work with so have yourself a nice large, clean area and flour handy to help with the rolling process.

This was really delicious and easy. I brought it to work one day for a co-workers bday and it was gone by the end of the day!
Preheat oven to 400°F.
Cut the cream cheese and margarine into the bisquick until crumbly.
Blend in milk until it makes a dough.
Turn dough onto lightly floured surface and kneed 8 to 10 times. Form dough into a fat rectangle shape.
Using a rolling pin, begin to roll out the dough into a 12 x 8 inch rectangle. You may need to use flour under and on top several times to keep the dough from sticking.
Lift dough onto a greased baking sheet.
Spread a can of pie filling of your choice down the center of the dough.
With a knife, cut strips about 1 inch apart down the sides. Fold the strips up and over the fruit filling at an angle.
Mix the cinnamon and sugar. Sprinkle on the top evenly.
Place in the preheated oven on the center rack. Bake for 15 - 17 minutes.
Be sure and check it at about 8 minutes to see if the top is browning. If it has, place a piece of foil, lightly on top to prevent burning.
You can also skip the cinnamon/sugar step and drizzle with a glaze instead.