Pamela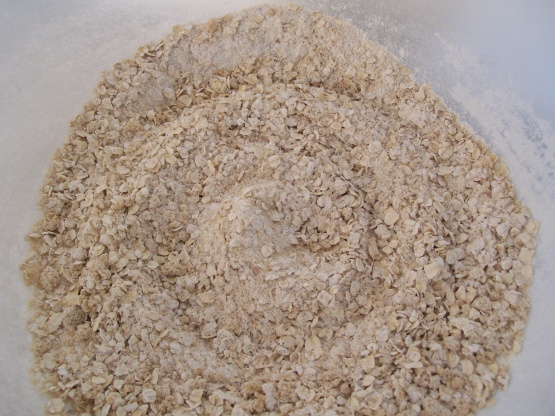 This is my favorite fruit crisp topping. It makes alot, and I love to keep it on hand for a quick dessert. My family LOVES fruit crisps, and I can whip one up in just a few minutes with this in my cupboard. Sometimes I'll use pie filling mixed with fresh fruit for a change. How many times do you have a certain fruit on hand, and want to make a crisp, but have to search for a topping recipe? Well, not anymore. Recipe to make fruit crisp follows.

Top Review by TiaGem
You are SO My Hero, Leeanne! I have been searching for a good fruit crisp recipe and never dreamed it could be so easy! My family loves it too! It is even a GOOD dessert for the kids! Yay! Thanks for making my day!
Combine all ingredients in a large bowl.
Store in an airtight container.
CAN BE STORED IN A COOL DRY PLACE FOR UP TO ONE YEAR.
To make crisp: Place pie filling in 8 inch square pan.
Cut butter into 1 cup of topping mix until crumbly.
Sprinkle over fruit.
Bake at 350 degrees for 30-40 minutes or until golden brown.