Redsie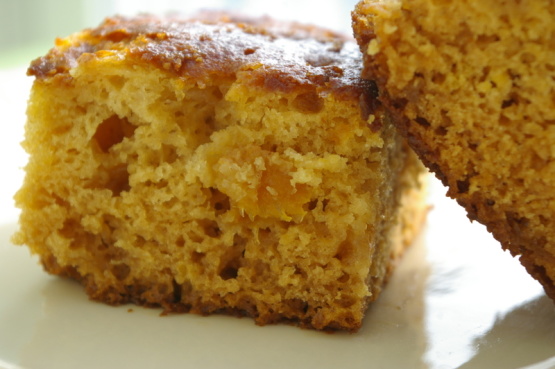 I adopted this delicious cake recipe from the RecipeZaar account in February 2005. The only changes I made were to add some vanilla and cut back the baking time. Be sure to top it with Fruit Cocktail Cake Icing, another of my adopted recipes.

I have been making this cake for years. However my method varies a bit. I make the entire cake in my blender. I put the entire can of fruit cocktail in the blender and blend on low for about 30 seconds. I then add the eggs, sugar and salt and blend again for about 15 seconds. I added the rest of the ingredients and continue to blend until smooth. I pour the mixture in lightly greased pan, sprinkle about 1/2 cup of brown sugar over mixture and top with pecans. For the icing I make the following. In large sauce pan - 1/2 cup melted margarine, 1/2 cup white sugar, 1/2 cup can milk and 1 tspn vanilla. Bring to boil stirring constantly. add 1 cup of shredded coconut . Stir well and continue to boil for 5 minutes (no more - no less). I do not make the icing until the cake is out of the oven. Pour and spread icing over hot cake. This is an absolutely wonderful moist cake and I have never served it to anyone who did not say it was delicious.
In a large bowl, stir together flour, sugar, baking soda and salt.
Add eggs, fruit cocktail and vanilla and mix all ingredients well (by hand--do not use electric mixer); batter will seem very thick at first (if you use good fruit cocktail that has mostly fruit, not all juice), but this is the way it should be (the juice in the fruit cocktail is the only liquid in this recipe except, of course, the eggs).
Pour into a greased 9 inch x 13 inch pan.
Bake at 350°F for about 30 minutes or until toothpick inserted near center comes out clean.
This cake is best with Fruit Cocktail Cake Icing #7062.