Bobtail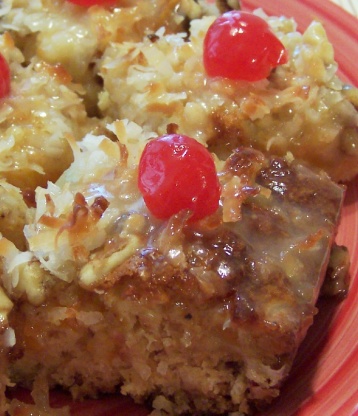 This recipe is a family favorite, very moist and lots of fruit in it. The recipe came out of the Marquette Mining Journal newspaper in Michigan.

We can't let this one go unnoticed! It's a wonderful dessert and I am going to make it again for Thanksgiving! So ooey gooey good, it was a pleaser here and will be at your house too!
Bars:.
Beat eggs and sugar. Add the rest of ingredients and mix well.
Spread in greased,13x9 pan.
Sprinkle batter with the walnuts and 1 1/2 cup coconut.
Bake at 350 degrees for 30 minutes.
Glaze:.
Mix all the glaze ingredients together in a small saucepan, boil 2 minutes.
Remove from heat and pour over the still warm bars.