Fruit Cake Slice With Lemon Icing.
katew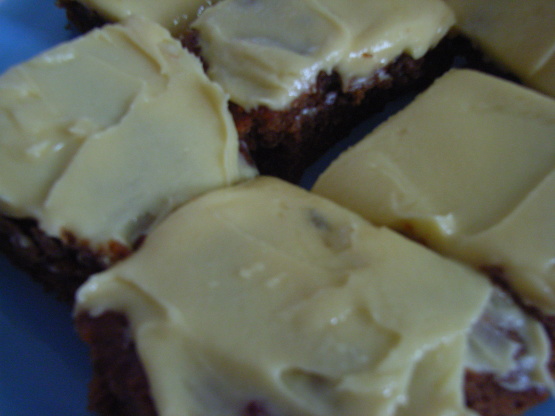 A great recipe for leftover Christmas cake or pudding. I saw this recipe on the Seven Sunrise Show and remember a friend's mum making something like years ago. She would use up her leftover Christmas pudding and cakes during the year to make this, and it tasted very nice indeed. I am not sure if this is the exact same recipe, but it sure looks close to it. I always have leftovers, and never quite sure what to use them in but this year I will freeze the leftover pudding and cake to use later in this recipe. Slice can be made up to 5 days ahead or freeze for up to 2 months. Thaw at room temperature, before serving.
Grease a 19cm x 30cm lamington pan. Line base of pan with baking paper.
Beat butter and sugar in a small bowl with an electric mixer until light and fluffy. Beat in eggs, one at a time, until combined. Beat in apricot jam. Transfer mixture to a large bowl.
Stir cake crumbs into egg mixture until combined,stir in flour, coconut, mixed spice and milk, in two batches. Spread mixture into prepared pan.
Cook in a moderate oven (180C) for about 30 minutes, or until cooked when tested. Stand for 5 minutes before turning out onto a wire rack to cool.
Lemon Icing ~
Beat butter and lemon rind until pale in colour. Gradually beat in icing sugar mixture, and beat until smooth.
Spread lemon icing over cold slice. Sprinkle with extra mixed spice before cutting into squares.