msdnor30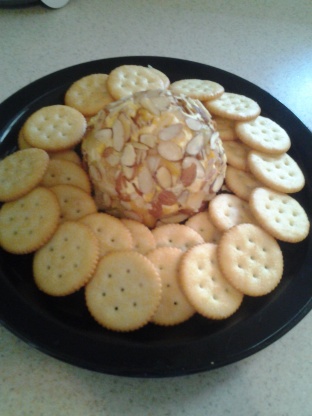 I tried this recipe at a party once and loved it. It is a very sweet "dip" but very addictive. I usually serve it with Wheat Thins. Although this is very quick and easy to make, it needs time to chill.

Very good recipe! I did use reduced fat cream cheese and sugar free intant pudding to hold down the calories. :-). Pecans (very cheap this year),instead of Almonds. When you use the reduced fat cream cheese you CAN'T roll it into balls though! I served this with The New Brown-Sugar Ritz Crackers. It was a tremendous hit. Thanks.
In medium bowl, mix cream cheese, fruit cocktail and instant pudding.
Add 1/4 cup almonds, if desired.
Mix very well.
Shape into one large ball or two smaller bolls and roll in remaining almonds.
Chill to set.
Serve with crackers.