Fruit and Yogurt Breakfast Couscous
ImPat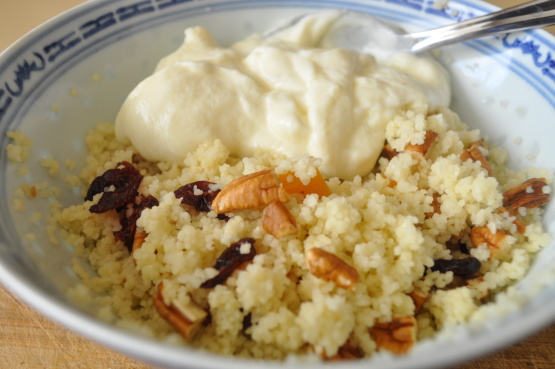 This dish is light and fluffy and slightly sweet. It's quick and easy to throw together. Couscous is quite bland and inherits the flavors of what it's cooked or mixed with so this dish soaks up the flavors of the honey-yogurt-cinnamon combination. This recipe is adapted from the Big Book of Recipes for Babies, Toddlers and Children.

Top Review by ImPat
I scaled this back for 1 serve but added some extra fruit (craisins and apricots) and nuts (pecans) and divided it as breakfast for the DM and myself with me having mine with yoghurt and we both thoroughly enjoyed this so quick and easy great tasting breakfast. Thank you AB Hall, made for PAC October 2011.
3⁄4 cup couscous, uncooked (plain, unflavored)
1 1⁄2 cups water (substitute milk or soymilk if desired)
1⁄2 cup dried fruit

3

tablespoons honey, divided

6

ounces vanilla yogurt
1⁄2 teaspoon cinnamon (substitute or add extra spices of your choice)
1⁄4 cup almonds, chopped (substitute with any other nut)
Set aside two bowls and divide the dry couscous between them (pouring half in each).
If using dried fruit, set aside a third bowl and fill with the fruit.
Add the water and 1 tbsp honey to a small saucepan. Bring the water to a boil and pour 1/2 cup boiling water over each bowl of couscous. Pour the remaining water over the dried fruit (this will allow the fruit to plump and become tender and even more delicious).
Cover each bowl of couscous and let sit for 5-10 minutes until the water has been fully absorbed. Fluff with a fork.
Drain the water from the bowl of fruit. Add half the yogurt to each bowl. Divide the fruit in half between the bowls. Divide the chopped almonds between the bowls. Drizzle each bowl with 1 tbsp honey. Sprinkle 1/4 tsp cinnamon on each bowl. Mix, if desired. Enjoy, it's delicious!
Notes: I love a combination of dried fruit with this dish. I have used dried apricots, pears, cherries, raisins, blueberries, goji berries, currents and dates (not all at once, but hey why not?). Raisins are by far the easiest as they are a staple in many kitchens (and they're great in this dish).
Notes (for serving an adult and a young child): Divide the dry couscous between two bowls: 1/2 cup and 1/4 cup. Make sure to chop the dried fruit into bite-sized pieces. When dividing the water between the bowls, add 5-oz boiling water to the adult portion and 3-oz to the child portion (using a measuring cup makes this easy). Skip the nuts if your child hasn't been introduced to them yet or if the pieces are large enough to present a choking hazard. Also, make sure your child has gotten an OK from the doctor to eat honey (typically given at 1 year).