Fruit and Veggie Good for U Salad
CoffeeB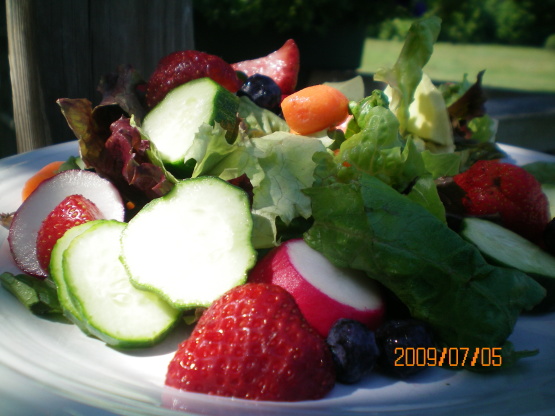 Made for Craz-E Contest 2009 Salad category. This is a savory sweet salad that is elegant enough to have as a entrée to a fancy meal or burgers on the grill.. Please enjoy and feel free to add or subtract your desires. Submitted for Start with Salad at a Dinner Party Category.

I love this salad. All my favorite ingredients that I normally have on hand...well sometimes not the fruit:-) The dressing is the absolute best. I love the addition of garlic to a simle olive oil/applecider vinegar blend. I omitted the tarragon, chives and peas. I made this into a single serving and just piled everything on my plate. I also added some sliced avocado. MMMMmmm...so wonderful~ Made for Crazeee Contest.
In glass bowl layer ingredients as listed.
Save 2 strawberry halves for topping garnish floret.
Snip chives into 1 inch pieces and sprinkle over top of salad.
Dressing.
In carafe or mixing bowl blend ingredients and shake or mix well.
Pour over salad and serve with a crusty loaf of bread to dip with.
or use as a side for soup or sandwich.
Add ons at your discretion:.
This is a very forgiving and versatile recipe. You can add other items to the salad to give it your signature.