Fruit and Nut Truffles (Sugarplums)
flower7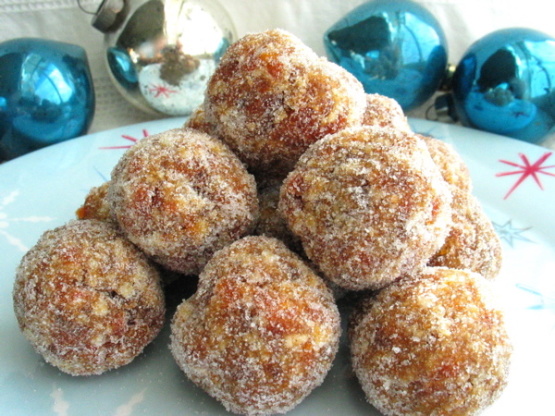 This recipe is from "Making great candy" cookbook. This is not a confectionary item, more like a fruit mince truffle. They are delicious and remind you of Christmas, a simple homemade gift idea. If no food processor is available to you, use a large bowl and metal spoon, be sure to chop all you ingredients very small. I like to use kitchen sheers rather than a knife for dried fruit, which can be sticky and stick to the knife.

Delish! I only wish I'd read the reviews before making them, so I'd know to use WET hands to roll the balls...my hands were a sticky mess! I'm experimenting with goodies for Christmas gifts and these have certainly made the list. One batch made 25 sugarplums and I rolled mine in unsweetened, shredded coconut. Thanks for the recipe!
.Place all ingredients into a food processor and blend until a ball forms (it should take about 2 minutes).
With wet hands, roll into balls (about the size of a large cherry) then roll into the extra sugar.
Store in an airtight container for upto 2 weeks.
Makes 25 - 35 truffles.