ImPat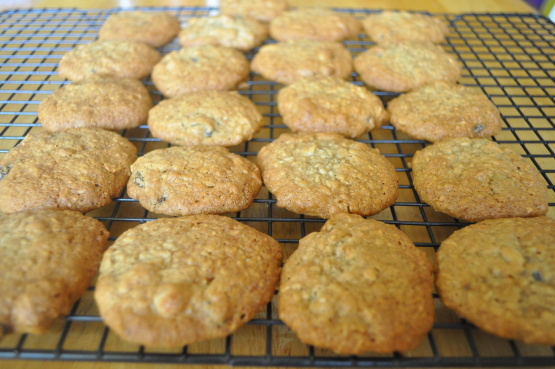 Here is one of my favorite cookies. My Mom used to tell me that these were healthy breakfast cookies and would pack a couple in my lunch if I didn't have time to eat breakfast before school.

Top Review by ImPat
I made a half recipe and got 21 cookies and baked them at 165C for 12 minutes to a lovely golden colour. I also subbed macadamias for the walnuts. The mix I found impossible to roll as it was thick and gluey so just dropped spoonful on the baking sheets though I found it best to wet the spoon so the mix fell off and didn't stick to the spoon. I made these for the DS to take to his music recreation group where they loved them, thank you Pink Diamond for a good healthy cookie (or a biscuit downunder), made for Everyday a Holiday.
Preheat oven to 350 degrees Fahrenheit.
Combine brown sugar, sugar and vegetable oil thoroughly.
Add egg and vanilla and beat well.
Blend in banana, walnuts, coconut and raisins.
Sift together flour, baking soda and salt.
Add to first mixture along with oats.
Blend until well combined.
Shape dough into 1" balls; place on parchment paper lined baking sheet and press down with a fork which has been dipped in warm water.
Bake for 12 to 14 minutes.