Fruit and Nut Bark (Apricots, Almonds, Cranberries & Ginger)
flower7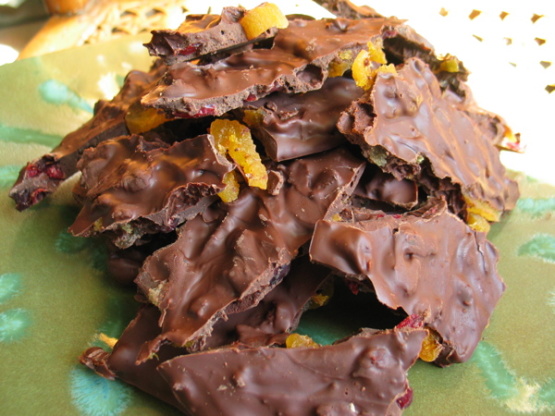 At the end of each holiday season I have a canister of cookie ingredients leftover. From that comes a collection of candies used to accent my trays. This year's bark was sensational and well worth posting. The combination of ginger and dark chocolate bursts in your mouth with every delectable bite. While the flavors here are complex and more sophisticated than my usual bark, but just wonderful year round.

Delicious and easy to make. I made two batches as Christmas gifts. Batch 1 had almonds, ginger, and mixed berries (cranberry, strawberry, blueberry, and cherry). Batch 2 had almonds, ginger, mango, pineapple, papaya and coconut. They got rave reviews, thanks!
1

(11 ounce) bag semi-sweet chocolate chips (or used chopped bars)

1

(4 ounce) bar dark chocolate (or use chips, the darker the better)
1⁄2 cup whole almond, toasted
1⁄4 cup dried cranberries
1⁄2 cup dried apricot, cut into slivers or large bites
1⁄4 cup candied ginger, cut into slivers or small bites
Melt chocolate in a large double-boiler over just simmering water until barely melted. You want to avoid needing to re-temper the chocolate.
Stir in the fruits and nuts. Pour out onto a cookie sheet lined with parchment paper.
Let cool completely. Break into pieces and serve.