Fruit and Cream Layered Salad
Leslie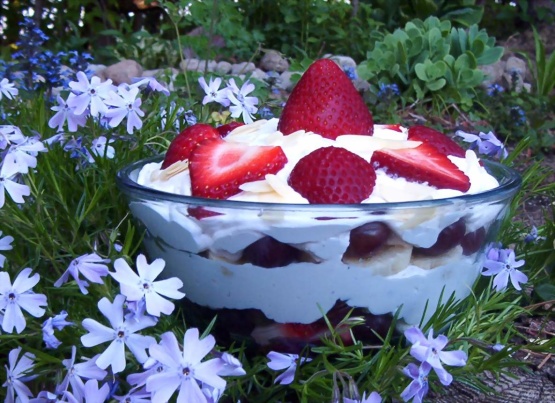 A wonderful fruit salad to make when fruit is at its best! It can be made a day ahead and you can use any fruit that you like.

Top Review by Pismo
I have made this salad several times now and it is always a big hit. My in-laws have started requesting it everytime I go over there for a bbq and it won me $50 at a company cookoff! I have always doubled the topping/cream part though (used two small yogurts, one 8oz block cream cheese, and either one large tub or two smaller tubs of Extra Creamy Cool Whip)and used lime juice instead of lemon. I wouldn't suggest making it a day ahead though or all the juice from the fruit goes to the bottom of the bowl and it looks not so appetizing. I found that cutting up all the fruit and leaving it to drain in a collander in the fridge overnight or for a few hours works best. I also made the topping the night before when I cut up the fruit so it was really easy to throw it together when it was time to eat. Great salad and very easy to make!
In small bowl, combine cream cheese, yogurt, sugar, and lemon juice. Beat at medium speed until smooth. Add whipped topping and almond extract, continue beating until smooth and thick. Refrigerate.
In large glass bowl, layer blueberries, peaches and strawberries. Spoon on half of topping mixture. Layer on grapes and mandarin oranges. Spoon on remaining half of topping over fruit to within one inch of edge. Sprinkle with almonds. Garnish with whole strawberries. The salad can be made a day ahead and any fruit combination can be used.