Frugal Gourmet's Polish Noodles and Cabbage
Rita1652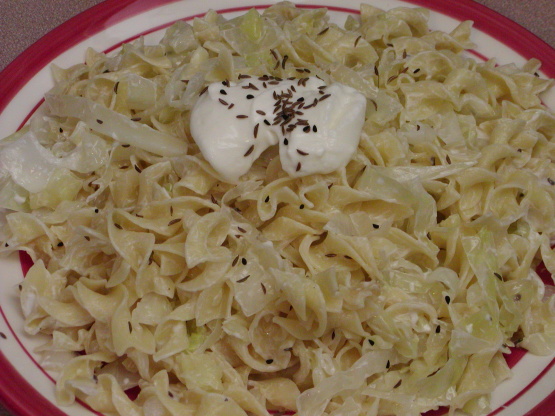 This recipe is from "The Frugal Gourmet on Our Immigrant Ancestors" cookbook. It's a great Polish comfort food, easy to mix and serve, and it's easy on the pocketbook. I like to add sliced Kielbasa to mix when done and serve with a tossed salad and good hard-crust bread.

This was delish! I had to buy caraway seed, as it isn't something I normally use, and I'm glad I did. A definite keeper.
Melt butter in large skillet.
Add onion and sauté until transparent.
Add cabbage and sauté 5 minutes, or till tender but still crisp.
Stir in caraway seeds, salt and pepper.
Cook noodles in salted water as directed on package.
Don't overcook.
Drain well.
Stir noodles into cabbage and add sour cream.
Cook 5 minutes longer, stirring frequently.