Frugal Gourmet's Focaccia
rothiii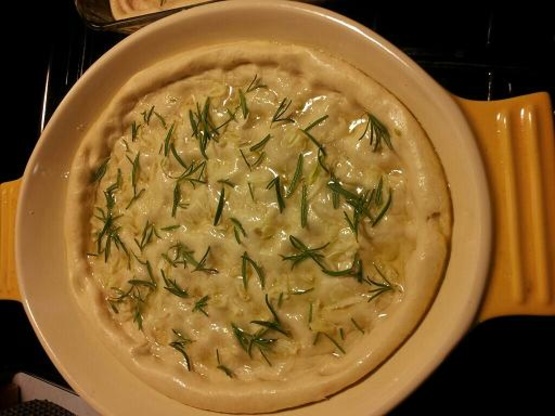 I copied this recipe from the Frugal Gourmet show years ago as I watched Jeff Smith prepare it. It certainly looked delicious and I had to try it. It is good! (Rise time is not included)

Delicious and easy. Great with all kinds of soups.
In a large bowl, mix water, yeast, and sugar.
Stir in oils and 1 t salt.
Add 2 3/4 c flour, mixing well til spongy.
Add enough remaining flour to make stiff dough.
Turn onto floured surface and knead until elastic.
Cover with bowl and let rise til doubled.
Divide dough in half, spread on cookie sheets using your fingers.
TOPPINGS:.
Mix crushed garlic with olive oil; brush over bread.
Sprinkle w/ dried rosemary and kosher salt.
Cover and let rise.
Bake at 375 for 1/2 hour.
Cut into squares and serve.
NOTE: You can also slice squares in half for sandwiches.