Frozen Wine Slushes - 3 Variations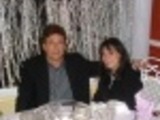 Wine that melts in your mouth! I believe these originally came from Wine Enthusiast. There are three different versions given: Zingy, Tropical, and Jammy. They are an appealing alternative to sangria or a wine spritzer and will really take the edge off a hot summer's day.
Directions
These are all assembled the same way. Add fruit juice or fresh fruit, blend until smooth, and freeze. The alchohol will prevent the mixture from becoming solid ice. Serve in a Margarita glass.