Frozen Wine Slushes - 3 Variations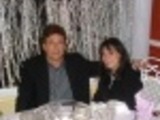 Wine that melts in your mouth! I believe these originally came from Wine Enthusiast. There are three different versions given: Zingy, Tropical, and Jammy. They are an appealing alternative to sangria or a wine spritzer and will really take the edge off a hot summer's day.
Directions
These are all assembled the same way. Add fruit juice or fresh fruit, blend until smooth, and freeze. The alchohol will prevent the mixture from becoming solid ice. Serve in a Margarita glass.
Most Helpful
This was really yummy stuff. I had the Zingy today. I made it last night so it could freeze up a bit. Had it after work today, but had to scoop it out and let it defrost just a wee bit so I could slurp it up. The limeade in it adds such a nice tart flavor. Delicious stuff. I think I will try the Tropical on the weekend. Thanks for this wonderful recipe. Made for the Think Pink Oct'09

OK, this was GREAT! I made the "zingy" recipe, but will be trying the others soon! It was slushy goodness in a glass! I did halve the recipe, much to my dismay, but I know better next time! Thanks for sharing, JackieOhNO!