Frozen Reeses Peanut Butter Pie
ryyedogg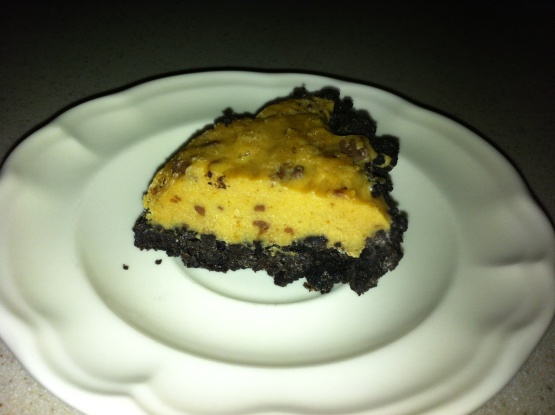 I have not made this yet, I found it at Bakersroyale.com and it looks SO good! The author threw in some crushed Reese's for extra flavor and for added texture. The cooking time is actually the cooling time.
Preparation: Lightly butter springform pan if it is not non-stick.
If you do not have a springform pan line a cake pan with a piece of lightly buttered foil leaving a one inch over hang around the edges for easy pie removal or alternately use a traditional pie pan.
Oreo Crust:.
Place Oreos in a food processor or blender and pulse until cookies are finely crumbed.
Alternatively, place Oreos in a plastic bag and crush with a rolling pin. Mix in the melted butter and then firmly press crumbs into pan to create a crust.
Bake crust at 350 degrees F for 7-10 minutes.
Reese Peanut Butter Pie Filling:.
Place peanut butter and confectioner sugar in a pan over low heat and stir until combined and peanut butter is melted.
Set aside for five minutes to cool.
Gently fold in peanut butter mixture into Cool Whip until combined. Gently fold in crushed Reese's pieces into peanut butter Cool Whip mixture.
Pour mixture into Oreo crust and freeze for 3 hours.
Garnish with caramel and chocolate drizzle.