Frozen Peach Yogurt -- Made in a Food Processor!
Boomette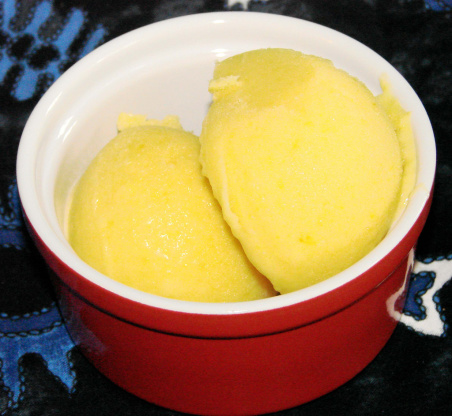 From EatingWell.com -- Use chopped frozen peaches, or you can substitute frozen berries or whatever frozen fruit you have on hand in this ultra-quick frozen yogurt that is made without an ice cream maker.

Amazing flavor. I made just one serving as I'm the only one here enjoys yogurt and used one large ripe, juicy, glorious red peach. I did need to about triple the amount of yogurt ask for yogurt for it to blend. I used vanilla yogurt. I have some strawberries in the fridge that are going into the freezer as soon as I finish this post. They are destined for the same elegant fate as the peach. Most certainly a keeper recipe!
Combine peaches and sugar in a food processor; pulse until coarsely chopped.
Combine yogurt and lemon juice in a measuring cup; with the machine on, gradually pour the mixture through the feed tube.
Process until smooth and creamy, scraping down the sides once or twice. Add 2-3 tablespoons additional yogurt, fruit juice, or water if your frozen fruit mixture needs thinning during processing!
Serve immediately, or place in serving dishes and store in the freezer for 30-45 minutes, for a firmer texture!