Ick2739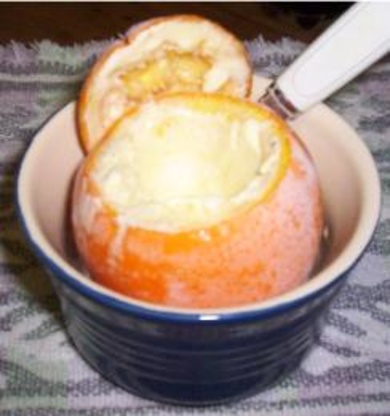 I've been making this recipe for close on 30 years. It's great, but only as great as the ice-cream you use. Don't be tempted to use any more liqueur as the alcohol stops the ice-cream setting (I've tried!) These are wonderful for a dinner party.

Hello. You stated that you had tried to add more liquor, if that is something that you desire to do, just add a little bit of unflavored gelatin to the liquid. this will help it to set up, but will also take a little longer for it to melt as well. This sounds good. Thanks for sharing.
Remove a"lid" from the top of each orange (retain the lid).
Carefully remove all the pulp from the orange-I use a dessertspoon to do this.
Allow the ice-cream to soften for a minute or two, then working quickly, stir through the liqueur and concentrate and fill the orange shells with this mix.
Replace the lids.
Freeze for at least 6 hours but preferably overnight.
Remove from the freezer about 10 minutes before serving so they go frosty.
These look good with a sprig of orange or lemon leaves poked into the top before serving*note-don't be tempted to use the pulp in place of the concentrate, the flavour is all wrong.
Use the pulp for juicing or something.