Frozen Neapolitan Delight
teresas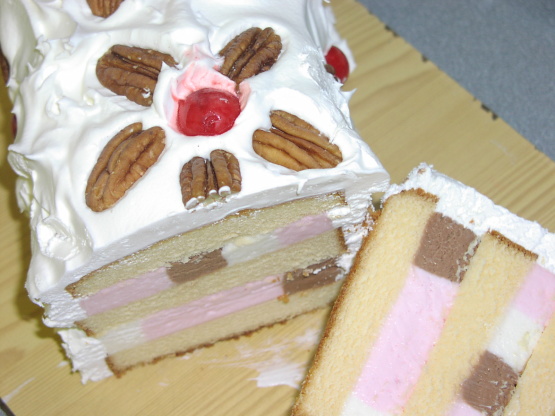 This is a recipe I found back in 1971 before DH and I got married. I found it on a box of Reynolds Wrap. It had a great picture of the finished dish and my little brother who was 7 at the time made me promise to make this for him after I got married. Well.... I believe I had been married about 10 years when I finally made this for him. DH and I just celebrated our 35th. Yes DB still asks for this whenever we have a family get together. Enjoy! Preparation time does not include freezing time.

OK, I'm the DB in this story and my DS is awesome!!! It took her a little while to get around to making it, but it was fabulous and worth the wait. She's an incredible cook and an even better sister!
1

(12 ounce) package frozen pound cake

1

pint neapolitan ice cream (brick)

1

(4 1/2 ounce) package frozen whipped topping

14

pecan halves
Must use Heavy Duty Reynolds Wrap.
Cut pound cake lengthwise into 3 equal layers.
Place one layer on an 18" square sheet of Reynolds Wrap.
Cut ice cream brick lenghtwise into 2 equal slices and place on cake layer.
Repeat with second ice cream brick and cake layer. (finish with cake layer).
Frost top and sides with whipped topping. (Cool Whip).
Decorate with pecans and cherries.
Place on foil in freezer about 2 hours, or until topping is frozen hard.
Remove from freezer.
Bring foil up, double fold over top and fold in ends.
Return to freezer till ready to serve.
Slice into equal servings of 8-10.