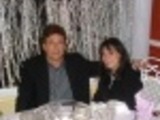 Although this is delightful anytime, there is something particularly wonderful about sipping this out on the deck on a hot summer's eve.
1 ripe mango, pared, pitted, coarsely chopped (about 12 oz.)
1⁄4 cup unsweetened pineapple juice
2 tablespoons fresh lime juice
2 tablespoons superfine sugar
1⁄2 cup light rum
3 cups ice cubes
Directions
Place mango, pineapple juice, lime juice, and sugar in blender and process on high speed until smooth. Pour in rum and blend well. Add ice cubes and blend until smooth and slushy. Immediately pour into 4 stemmed glasses and serve.
Most Helpful
I made the daiquiri as directed except I hadn't looked to see that it made 4 drinks. Oh happy day!!!! LOL
It was silky smooth and so refreshing. Thanks for posting.
Made for Food.commandos ~ ZWT 7

The was a delicious and refreshing drink. We really enjoyed these daiquiris. And they're really easy to make, so we can easily have then just about anytime. Thanks for sharing your recipe, JackieOhNo. Made for Culinary Quest 2016 (Bahamas).

This was delightful! I halved the recipe, since I was the only person around to drink it. I technically ended up with 2 normal servings, but poured into a margarita glass, it becomes a single chain-restaurant sized serving (hey, it made Sunday house-cleaning a tad less painful, lol). I used one Ataualfo mango and 2 packets of stevia in place of the sugar. I'll be keeping this on hand for girls nights or when we have guests over. Thanks for posting, Jackie! Made for CQ2016 Festival Rum Challenge Bahamas for Team Iota Eta Pi