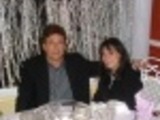 Although this is delightful anytime, there is something particularly wonderful about sipping this out on the deck on a hot summer's eve.
1 ripe mango, pared, pitted, coarsely chopped (about 12 oz.)
1⁄4 cup unsweetened pineapple juice
2 tablespoons fresh lime juice
2 tablespoons superfine sugar
1⁄2 cup light rum
3 cups ice cubes
Directions
Place mango, pineapple juice, lime juice, and sugar in blender and process on high speed until smooth. Pour in rum and blend well. Add ice cubes and blend until smooth and slushy. Immediately pour into 4 stemmed glasses and serve.
Reviews
Most Helpful
I made the daiquiri as directed except I hadn't looked to see that it made 4 drinks. Oh happy day!!!! LOL
It was silky smooth and so refreshing. Thanks for posting.
Made for Food.commandos ~ ZWT 7

This was a wonderful drink! I used frozen mango's and I had to make a double batch as we just loved them! Made for Pac Fall 2011.
I reallly liked this, mine was just a bit bitter which I am attesting to the mango I used and not the recipe itself. I may have picked one that wasn't quite ripe enough. I added a bit more sugar and the result was better. Thanks so much for sharing. Made for ZWT 7 - Count Dracula and His Hot Bites.