DZ_USA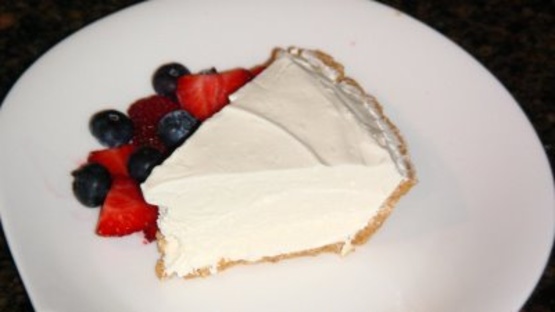 Quick, easy, and inexpensive dessert. The trick to getting the thickness you need is to have all your ingredients very cold and the lemonade comes directly from the freezer.

This is the first time I've ever heard of, much less had, this kind of pie. Made it for some friends and it was delicious and refreshing. The only problem was that I did not freeze it long enough - made it in the afternoon and it was not frozen that evening, and it was still not really firm until the next afternoon. Maybe I didn't chill the ingredients enough or should've beaten the milk longer. I will try again another time and post an update. Still, it tastes great!

UPDATE: I've made this again a few more times and it has turned out perfectly. I put the milk and lemonade in a bowl in the freezer for at least an hour prior, the whipped topping in the refrigerator to let it soften, and froze it overnight. It was a big hit with everyone. My cousin also tried a variation with raspberry lemonade and said it was even better.
1

(14 ounce) can sweetened condensed milk, chilled

1

(6 ounce) can frozen lemonade concentrate

12

ounces whipped topping, thawed
Beat milk with a mixer.
Add lemonade directly from freezer and beat until very thick.
Fold in whipped topping.
Pour into crust and freeze.
Remove from freezer 30 minutes prior to serving.