Frozen Graham Cracker Treats
David04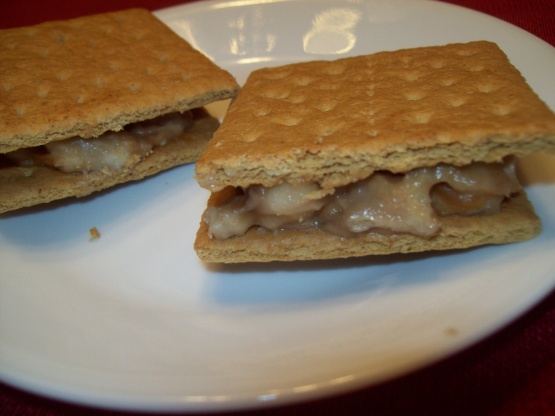 This dessert recipe is SO good, and low enough in calories that you won't have to beat yourself up to enjoy them. Great for parties, or late night cravings!
Place the peanut butter and peeled bananas in a bowl, and mush them with a fork until you get a well-mixed bowl of mush.
Break the graham crackers in half so you have 24 squares. Set 12 aside. Line a long piece of foil with the crackers in rows of 4, 3 columns high. Using your fork, dollop on a generous amount of mush on each of the 12 squares. (The original recipe called for 8 squares for this, but there was WAY too much mush for me, so use your discretion). Cover the mushy squares with your extra 12 squares, making them into 'sandwiches'. Stack and fold your 'sandwiches' into the foil, and freeze for about 6 hours. Eat, and SAVOR.
Note: I'd recommend folding 1 row in the foil, then put the next row on top. When I did mine, the bottom rows got smooshed too much and froze together, and I was really careful. This may work in tupperware as well!