Frozen Garden Tomatoes for Winter Soups and Sauces
2Bleu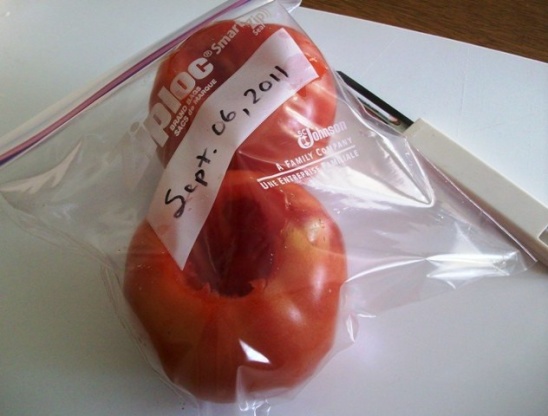 This is absolutely the easiest way to preserve all those tomatoes from your garden. You don't even need to peel them before freezing. Family friends in Northern Ontario used to do this but this method was found in Chatelaine Food Express Quickies. The servings depend on how many tomatoes you're freezing. Preparation time also depends on how many tomatoes you intend on freezing.

I've been meaning to review this for a while now. This is the perfect way to preserve tomatoes for winter cooking. It works best with Roma-size or smaller tomatoes. You can also peel them while frozen; the skin scrapes right off. You can cut up or dice them frozen as well. They're too soft for salad, of course, but wonderful in spaghetti sauce and chili. Thanks for posting. Made for 1-2-3 Hits tag.
ziploc bag (freezer bags)
Core tomatoes, then freeze in freezer bags (don't bother peeling them).
To use frozen tomatoes, plunge into simmering sauces or soups; burst skins will float to the surface making them easy to remove.