lets.eat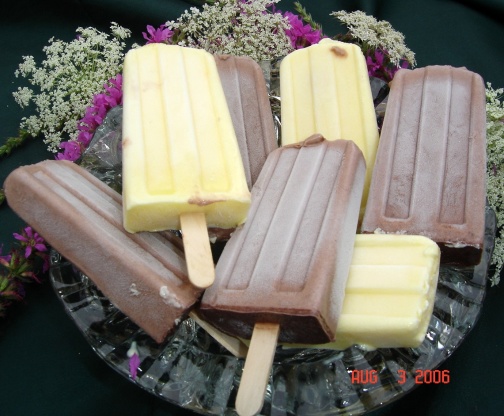 An easy way to make fudge pops that kids will love. I've put the original recipe in, but feel free to use sugar free pudding or Splenda in place of the regular pudding and sugar.

This was well recieved by all. All I had on hand was vanilla pudding, and they turned out great. Now I need to try chocolate, and always have pudding on hand. Instead of getting out the mixer (kitchen Aid) and having to clean up, I mixed it in a 1Litre mason jar. The kids had fun shaking and minimal clean up for me. Made 14 tupperware Ice tups. Mix sugar and pudding first then add milk. Wonderfull.
In a mixing bowl, combine the ingredients.
Pour mixture into small plastic cups, or ice molds if you have them, and place in the freezer.
When set (but not completely frozen- you need to check about 5-10 minutes once they have been in the freezer), place a wooden craft spoon into them.
Serve when frozen.