lazyme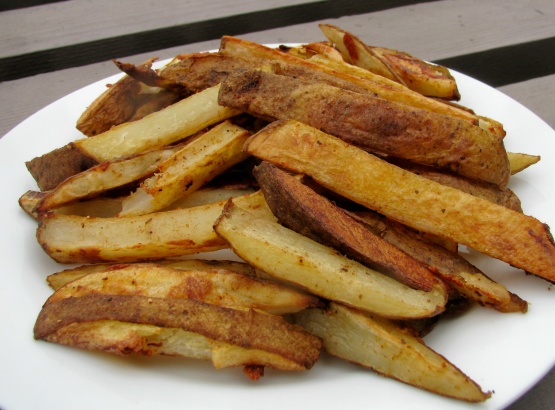 If potatoes are on sale, buy a bag and make your own frozen french fries. Prep and cooking times are approximate. The true time will depend, of course, on how many fries you make and how thick you cut them.

I am rating this recipe a five star because it's a great and simple idea. We got out the food processor last night and whizzed up a 5kg bag of potatoes. We left the skins on the potatoes this time. For a bit of variety we did plain french fries and Cajun fries. There was a bit of a production line going with 3 shelves in the oven in use. I was thinking of putting the chips in zip lock bags after they cooled but I am glad that we used the ice cream containers so thumbs on the ice-cream container idea as this will prevent the fries from being squashed in the freeze. We had fries for lunch thed next day!!! *wicked smile* They were far far better than the store bought ones. Another one of your great ideas, Sackville Girl. Please keep your ideas coming. Thank you!!!!
Peel the potatoes and cut into french fries.
Put the raw french fries in a ziplock bag and shake to coat with a little olive oil and cajun seasoning.
Bake at 425 F until just done.
Cool, then set the cookie sheet they were baked on in the freezer until they are frozen solid.
Scoop them off with a spatula and store in 5 quart ice cream buckets.
That way you can have as few or many as you like without having to go for an extra bag.
To heat them up just throw them back in the oven on a cookie sheet at 425 F for about 15 minutes.